30 janvier 2013
A looong time ago we were bathing, basking in the sun and happily cracking stones with my dear future husband on a lovely Island. But DFH decided he had enough of sun and wanted some fresh air.
Totally in love with the jamaican concept of "push car" (proof is a big scar on his right arm), we landed in snowy Calgary. We found a nice yellow house whitened height months a year but not enough stones to crack for both of us. In this quite fresh country - fresh like incredibly cold - young mothers like me rather look at the snow from inside their sunny walls. And soon enough my brain was begging for something to keep it occupied...
Coincidence of timing, one of my brother-in-law decided to get married. And that gave me the best excuse to buy a sewing machine: the dresses for the bridal party were the perfect present! I had to learn how to sew!! Well, I had to try... and the bride was crazy enough to trust me! (Thanks again Mrs S!!!) But I found out that hammer and needles are not handled the same way... and the bride had felt in love with a very nice model seen in a store - which meant no pattern at all...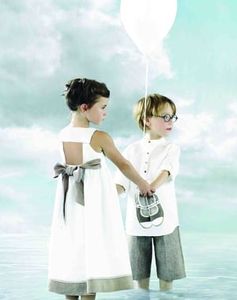 Dress "Coquillages" cotton and linen - Jacadi
After a few works to learn the basics and socialized with my brand new machine, I made a zillion versions of the upper part of the dress to make it as closely fitted as possible. We spent hours trying on all these rough copies, starting again, drawing again, sewing again... and finally I managed to finish the smallest of the dresses, the one for my baby girl: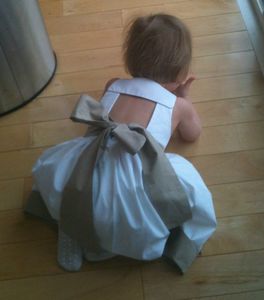 O&S Bridal party dress - 18mo
White and sand cotton popelins, white cotton batist for lining
(France Duval-Stalla & Ma Petite Mercerie)
The hard part was done but the pattern still needed to be extended to fit the measures of the other damsels: sizes 2T, 6T and 8T. In a few other weeks I did five other dresses and gave birth to a little angel in the middle of all this mess. Two far more talented sewers helped to complete the outfits and Mrs. S seemed to like her bridal party.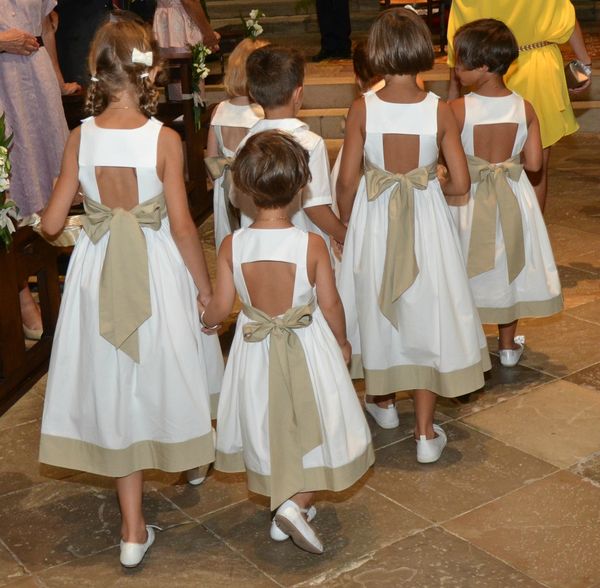 O&S Bridal party
Commentaires sur Because of the snow....