30 janvier 2013
This is the first time I used my Akiko Mano book: "Jolies tenues pour fillettes coquettes". It comes in French or in Japanese, I couldn't find it in English. This book is a treasure with so many lovely patterns!!! Here is the ballon sleeves blouse, size 110. Just a bit too large for my 2yo...
The length is good but it is still a bit too wide. Because my machine is VERY basic and does not work perfectly with very fine fabric, I made french seams everywhere. This already trimmed a bit of this extra width. But not enough.
No button (because my machine and I do NOT like button hole). I used Candy pink KAM instead.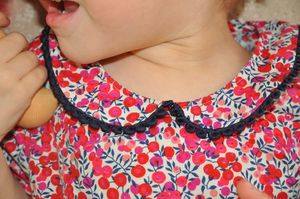 Mini dark blue pom-pom on the collar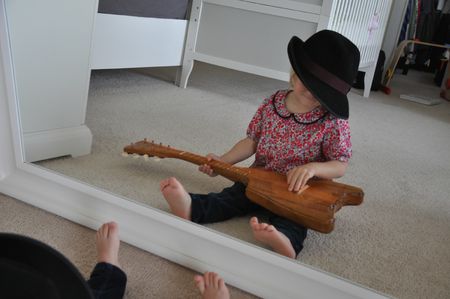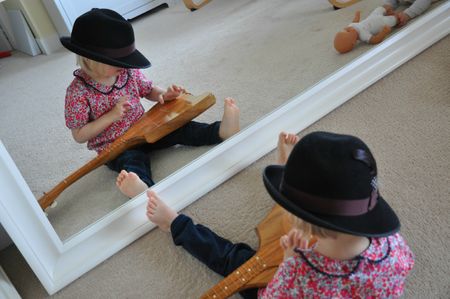 Balloon sleeves blouse D - 110.
Jolies tenues pour fillettes coquettes - Livre 296-fr JCA
Liberty Wiltshire red from Shaukat
Poor Lolita! She stayed naked for two long months (some warm and sunny months, I'm not a monster).
But when autumn came, we had to take action! I made a combination of all the tunic and bloomer patterns I found and tataaaaaa:
Citronille DIY dress found on Happy Doll - Bloomer homemade pattern
Liberty Plum Dog grey, charcoal linen (Fabric.com)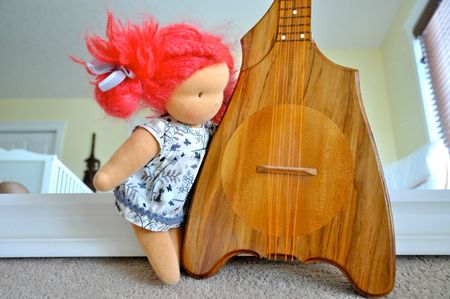 A looong time ago we were bathing, basking in the sun and happily cracking stones with my dear future husband on a lovely Island. But DFH decided he had enough of sun and wanted some fresh air.
Totally in love with the jamaican concept of "push car" (proof is a big scar on his right arm), we landed in snowy Calgary. We found a nice yellow house whitened height months a year but not enough stones to crack for both of us. In this quite fresh country - fresh like incredibly cold - young mothers like me rather look at the snow from inside their sunny walls. And soon enough my brain was begging for something to keep it occupied...
Coincidence of timing, one of my brother-in-law decided to get married. And that gave me the best excuse to buy a sewing machine: the dresses for the bridal party were the perfect present! I had to learn how to sew!! Well, I had to try... and the bride was crazy enough to trust me! (Thanks again Mrs S!!!) But I found out that hammer and needles are not handled the same way... and the bride had felt in love with a very nice model seen in a store - which meant no pattern at all...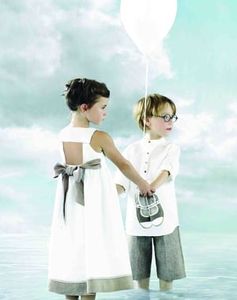 Dress "Coquillages" cotton and linen - Jacadi
After a few works to learn the basics and socialized with my brand new machine, I made a zillion versions of the upper part of the dress to make it as closely fitted as possible. We spent hours trying on all these rough copies, starting again, drawing again, sewing again... and finally I managed to finish the smallest of the dresses, the one for my baby girl: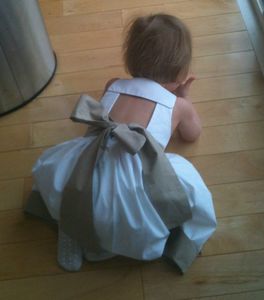 O&S Bridal party dress - 18mo
White and sand cotton popelins, white cotton batist for lining
(France Duval-Stalla & Ma Petite Mercerie)
The hard part was done but the pattern still needed to be extended to fit the measures of the other damsels: sizes 2T, 6T and 8T. In a few other weeks I did five other dresses and gave birth to a little angel in the middle of all this mess. Two far more talented sewers helped to complete the outfits and Mrs. S seemed to like her bridal party.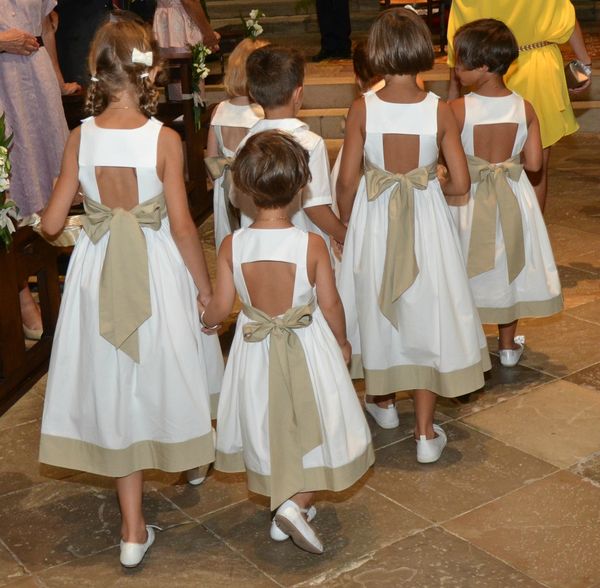 O&S Bridal party
When I was pregnant for the second time, people kept telling me it would be nice to find a present for my 2yo girl. And of course, the best for her was to have her own baby just like Mom! That in mind I began looking after lovely Waldorf dolls on etsy and I found out that it might be not so difficult to make one by myself... I finally ordered a kit from a great french doll maker (Bulle de Gum) and it came with all the supplies and a very well done booklet.
In the end it was long, very long, but totally doable. And I loved so much to see this little doll becoming alive in my hands. After a few hours of another kind of baby making (very faster and so much a bit more painful), we both had our doll to cradle and cherish.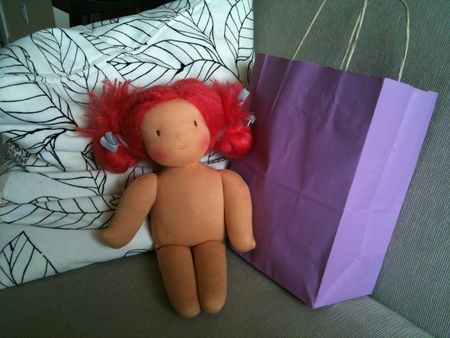 Waldorf Doll - Kit Petite Bulle, Bulle de Gum
Organic jersey skin, cherry wool hair, brown and pale pink DMC threads
After my first painful sewing attempt, I wanted something SIMPLE and EASY and FAST and... NICE of course. I found all this with the wonderful patterns from Ah Non Pas Elle. They come in PDF. They're also very CHEAP. Just GREAT.
I tried the cute little shorts called Sweet Boudoir. I love the shape, both puffy and classy, the idea of the belt that turns in suspenders and the finishing touches are perfect (french seam and bias tape everywhere). I know I am repeating myself but just to be sure it is written in your mind: the perfect pattern for beginner! (...and some are in english too!)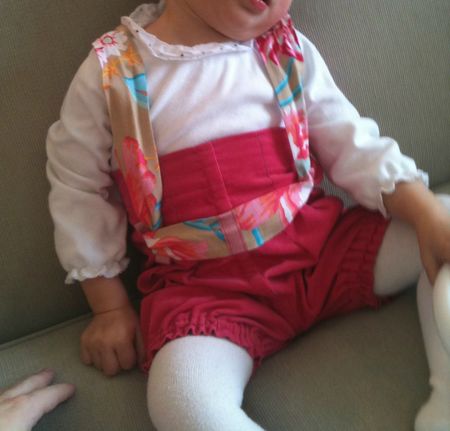 Sweet Boudoir, Ah non pas elle - 2T
Pink babycord, floral cotton
26 janvier 2013
First thing I learned: when you want to enter the Homemade world, it's good to choose a pattern that matches your skills. A year ago, I had absolutely none. And after spending hours drooling over nice blogs, I found a cute french pattern from Her Little World: a raglan blouse with nice pleats on the front (Délicate tunic): not too difficult, not too simple either...
The very first time I turned on my brand new sewing machine, I realized it would have been wiser to work with a simpler pattern, and most importantly with very sturdy, cheap, and not too nice fabric. That way you can happily ruin it for the time it takes to know your machine!! Logically I chose one of the cutest, delicate and expensive fabrics I could find: Liberty.
I didn't count the hours spent doing and undoing the same seam, hurting my fingers on the seam ripper, searching and learning sewing tricks from the web. And after a few changes to the pattern (not the smartest ones...) I ended up with the result below. The neckline is not straight, the sleeves would have been nicer without changing their length, but the front pleats are charming. I learnt so much with this doggy blouse, just for that we love it here!


Délicate, Her little World - 2T
Liberty Plum dog grey
I just opened my blog a few days ago... I mean my french blog, the one called "Maman les ptits marteaux..." after a kid song, and after my favourite tool: my hammer. But I don't use it a lot these days because I am not a geologist anymore. Well, not right now.... If I had to choose what I am, I would say a Mom (and that's already big enough, right?) and a sewer. A passionate mom and a passionate sewer. I only began sewing a year ago and since then I've been hooked, body and soul.
When I started my blog I naturally did it in French (well, I'm French after all, that's fair enough). But sadly French is not so much spoken in the whole world, and the magic of the Internet is all about learning, talking and sharing with people from everywhere. It had to be in English.
I know my English is not perfect and it may discourage you from reading more... but I'll try and that's the best way I know to make it better. And you can help too! PLEASE if you see some mistake or bad turn of phrase, I would be more than happy if you correct it. Thanks in advance to my censorious proofreaders... and I hope some of you will like what you see.